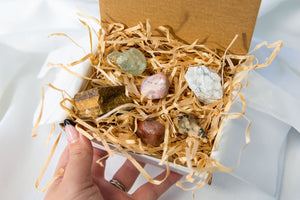 Clarity Co.
Gift Set #2
Regular price
$25.00
$0.00
Unit price
per
Need a quick gift, or want a "non-mystery" mystery box for yourself?
These beautiful gift sets are perfect - full of gorgeous goodies, and ready to go! Only one of each available.
What you'll find inside this box:
Fluorite
Peaceful + protective, with a positive, cleansing vibe. A good choice to work with when making a difficult decision; said to enhance intuition and focus, and to help remove distractions, allowing for a clear and unbiased perspective of a situation.
Howlite
Believed to help calm + relieve anxiety, remind us of our purpose, goals + ambitions - acts as a reminder of what's truly important.  Also said to help promote restful sleep.
Peruvian Rhodonite
A stone of love + compassion. Believed to boost loving energy and help heal emotional wounds. Said to help with discovering your unique talents, and encourage altruism and service to others.  A good choice to help you find your place in the world.
Tiger's Eye
Confidence, courage, and power. A good choice for meditation, steadiness, and protection. Also believed to increase resilience, attract wealth and good fortune, and enhance manifestation.
Sunstone
Leadership, positivity + mindfulness. Said to help highlight opportunities for joy, and reminds you to slow down, enjoy life, and notice the goodness that surrounds you with awareness and gratitude.  Also believed to ignite motivation and passion, linking intention and will with action.
Dendritic Jasper
Strength, Creativity + Stamina. Said to be a grounding stone that promotes Stamina of the body, mind and spirit. 
---