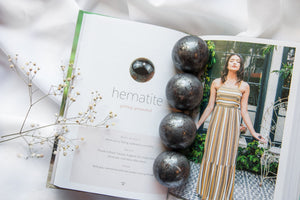 Clarity Co.
Hematite Spheres
Regular price
$95.00
$0.00
Unit price
per
Hematite | Crystals For Grounding + Protection
Associated with protection and grounding, Hematite is a wonderful choice to bring security + strength. This heavy, steady crystal can be helpful during times of overwhelm, as it brings calm and stillness, and its weighty nature makes it useful during meditation for grounding and presence. 
Hematite is said to be cleansing, balancing + detoxifying.  It's believed to help level energy and emotions, and can provide feelings of calm as it facilitates a connection to the earth.  Hematite is also believed to bring mental clarity and confidence, enhancing intuition and absorbing any recurring negative thoughts that are standing in the way of your happiness or well being.
Crystal Spheres
Symbolic of wholeness and unity, spheres are beautiful and versatile.  They're perfect for emitting energy out in all directions, and tend to have a more gentle, subtle energy.  Smaller spheres can be used for meditation, gazing, anchoring or as fidget tools in the hand, and can also make effective massage tools for releasing tight muscles, knots, or pent up energy in the body.  Place larger spheres in a central space in a room where possible, or use in the middle of a grid for gentle energy distribution.
Price is for one hematite sphere, selected intuitively for you
. Spheres are approximately 45mm in diameter and between 260-290g. As these are natural items, their beauty lies in their unique irregularities. 
---