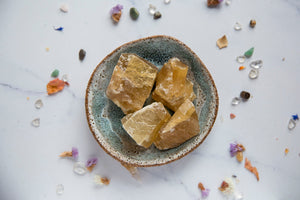 Clarity Co.
Honey Calcite Rough
Regular price
$6.00
$0.00
Unit price
per
For taking back your power.
Believed to help amplify self esteem, courage, and confidence within yourself, Honey Calcite has a balancing, transformational energy.  It's said to help with emotional strength, particularly when recovering from negative or hurtful relationships - including both relationships with others, as well as a previously unhealthy or negative relationship with yourself.  Honey Calcite provides a wonderful reminder of self worth, and is believed to give you the strength and support to keep going during difficult or challenging times.  This could be a good choice if you struggle to let people close to you; use this crystal to work on rebuilding your boundaries and regaining the courage to let people back in.
Price is for one piece, selected intuitively for you.  Pieces are approximately 4-6cm in length.  Photo is a representation only and may not show the exact piece you receive.  As these are natural items, their beauty lies in their unique irregularities. 
---