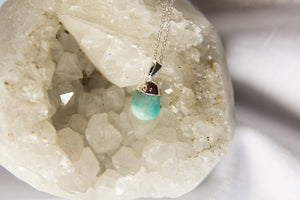 Clarity Co.
Silver Capped Amazonite Tumble Necklace
Regular price
$36.00
$0.00
Unit price
per
For calm communication.
Said to support you in speaking your truth, Amazonite is soothing and calming - like a gentle guide reminding you that you don't need to worry about being your authentic self!  Associated with communication, conflict resolution and healing, this beautiful crystal would be a great choice for those wanting support in overcoming tense or difficult relationships with honest, open and firm, yet gentle communication. 
Amazonite is said to be protective and can help ease the mind, making it a useful choice to work with for aiding anxious or overactive thoughts.  A harmonious crystal, it's said to balance masculine + feminine energies, encouraging a levelled and objective perspective.
Please choose your chain length using the drop down menu below. 18" chains also have a ring at 16", and 16" chains also have a ring at 14".  Chains are 925 sterling silver. Pendants are intuitively selected from available stock - each piece is as unique as we are! Please feel free to get in touch before ordering to select your own. As these are natural items, their beauty lies in their unique irregularities. ities. 
---