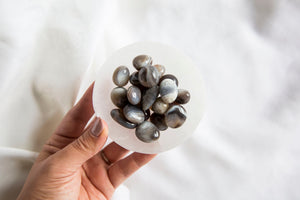 Clarity Co.
Botswana Agate Tumblestones
Regular price
$2.50
$0.00
Unit price
per
To release unwanted behaviours or dispositions + live consciously.
Steady + grounding, Botswana Agate has calming, nurturing vibes.  It's believed to facilitate hope, encouraging one to step forward into new opportunities + possibility. Botswana Agate is also said to help with problem-solving, helping bring new, creative solutions to light; meanwhile bringing a sense of resilience and strength.  It's believed to help alleviate grief, depressive dispositions + thoughts, and to support work  and efforts to release addictive, obsessive or compulsive behaviours. 
Botswana Agate is also said to spark creativity in an artistic sense, as well as bring out one's sensual side. It's believed to help balance volatile or roller coaster emotions, helping to control your flow of energy in a meaningful, conscious way.
Price is for one tumble, selected intuitively for you.  As these are natural items, their beauty lies in their unique irregularities.
---