Reading, Resources + How Tos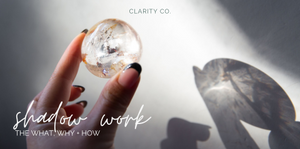 What is shadow work, or the shadow self... and why does it matter? So, you've heard the term "shadow work"... but what does that actually mean? As humans, we all have parts of ourselves that we're proud of; traits, values, habits + personality aspects that we put forward, that we hope others notice about us. This makes up our "self"; the person we show to the world. The flip-side is that, because we're human, we also all have parts of ourselves that we don't like. This side of ourselves is called our shadow self, a phrase coined by psychologist + psychiatrist Carl...
---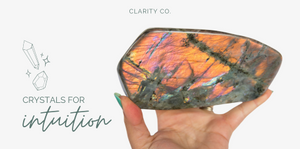 Intuition is a big part of spiritual connection + living in alignment. It's an incredibly powerful tool; but tapping into it and actually listening can be a whole different kettle of intuitive fish! As well as practices like meditation, journaling, mindfulness and using card decks, working with crystals can be a great way to help you tune into your inner voice, your instincts, your "knowing". Here are my favourite crystals to work with when enhancing + connecting with your intuition! Labradorite Believed to facilitate your spiritual journey, stimulate intuition and increase awareness, clarity and wisdom. Said to bring calm, reduce stress +...
---
• Blog • Growth • How To • Journaling • Manifesting • Mental Health • Mental Wellness • Personal Growth • Resources • Spiritual Growth • Stress
Journal Prompts and Tips For Personal + Spiritual Growth Welcome to Journaling June! (although if you've found yourself here outside of June, welcome to journaling anyway!).  If you're ready to start living a more fulfilled, authentic life and understand yourself more, read on to find out how to get started with journaling - or scroll down to the bottom to get a month's worth of journaling prompts! What Is Journaling? Journaling will be slightly different for everyone, but it's essentially the practice of diving deep into your reflections, thoughts, emotions, worries, questions, etc. It's introspective, meaning you look within yourself, and can also be used...
---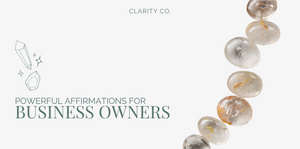 You guys know I absolutely love personal affirmations - that's why we send one with every order! They're an easy, accessible, effective and free tool in your manifestation toolkit, and are something you can use as often as you like. So if you want to instantly elevate your business, master your mindset and kickstart your successful-biz-owner manifestation into gear, read on! How Do Affirmations Work? Many people don't realise just how powerful our language - and the way we speak to ourselves - is. There is an incredible amount of power in our words, and they directly and indirectly shape our reality. Reality affects...
---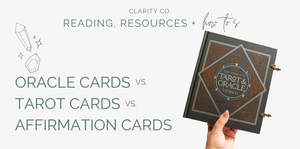 I'll admit it. Even after starting Clarity Co., tarot was strictly off limits to me for ages. "I don't *do* tarot," I remember saying to my supplier, "it's not my jam." Don't get me wrong - I found tarot incredibly intriguing, and I wanted desperately to be "able" to use it, but years of conditioning that tarot was "bad" or "dark" held me back.  The thing is, as humans, we're often a bit apprehensive of what we don't understand. And when we're apprehensive of something, we tend not to try and understand it better - it's much easier to just...