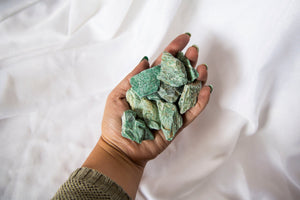 Clarity Co.
Buddstone Rough
Regular price
$4.00
$0.00
Unit price
per
To help you endure.
A stone of stamina, Buddstone is said to help support you for the long haul, bringing resilience + determination to see things through to the end. Buddstone is believed to facilitate strength in the face of adversity, and can be useful to carry when travelling.
This would be a good choice when embarking out on a new adventure (or out of your comfort zone) as it can help with self-sufficiency and staying in alignment with your purpose and goals. It's said to encourage consistency and goal achievement, and reminds you to have faith in the path that you're on: Although there may be hiccups and detours along the way, the Universe is looking out for you, and everything will work out as it's meant to.  Buddstone would be a helpful crystal to have at your desk, particularly for business owners or those who are self employed.
Also known as: African Jade, Verdite.
Price is for one rough piece, selected intuitively for you. Pieces are approximately 3-5cm. As these are natural items, their beauty lies in their unique irregularities.
---