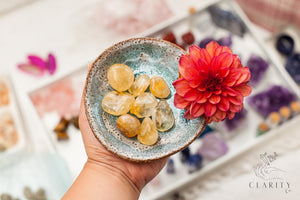 Clarity Co.
Heat Treated Citrine Tumbles
Regular price
$4.00
$0.00
Unit price
per
For attracting abundance.
Known as the "Happy Stone" or the "Merchant Stone", Citrine is associated with success, prosperity, abundance + wealth. It's said to be a powerful aide in manifestation, and is believed to enhance motivation and enthusiasm.  Believed to help energise every area of life, this is a great choice of crystal to work with to achieve your goals and ambitions.  This crystal resonates generosity, encouraging you to share what you have freely, knowing that you will always have enough.
Cleansing, regenerating and protective, Citrine is also said to bring pure joy + happiness; emitting light and positive vibrations to your aura and environment. It's believed to improve self esteem and stamina, and can help you to be less sensitive towards criticism from others - instead, supporting you to take positive action from constructive criticism. This is a stone of joy, releasing negative or unhelpful traits, and instead seeking out opportunity with a sense of healthy optimism and excitement.
Please note: This is heat treated citrine (as is most citrine sold on the market).  It's created by heating amethyst or smoky quartz at high temperatures to turn it golden yellow.
Price is for one tumble, selected 
intuitively for you
. 
P
hoto is a 
representation only and may not 
show
 the exact pieces you receive
. This citrine is heat-treated amethyst (as is most citrine on the market) - naturally occurring citrine tends to be more subdued in colour.  As these are natural items, their beauty lies in their unique irregularities. 
---