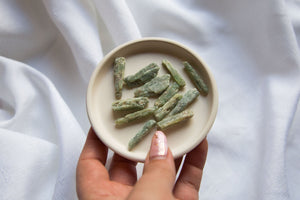 Clarity Co.
Green Kyanite
Regular price
$9.00
$0.00
Unit price
per
Rarer than blue or black kyanite, Green Kyanite resonates with the heart chakra and is said to help to open + comfort emotional stress points. Like other kyanite, it's also said to align the chakras, and can help shift stuck patterns by helping you to listen to your gut instincts without all the external "noise". It's believed to help clear up confusion, strengthen your ability to feel empathy and compassion, and is a good choice to use when needing to resolve conflict.
Green Kyanite is also believed to help discern truth, including the deepest truths of the heart that you perhaps have closed yourself off to.  It's said to help with intuition and insight, and can also be worked with to bridge a relationship with nature + nature spirits.
Price is for one piece, selected intuitively for you. 
Pieces are approximately 2-3cm long. Each piece is unique, and may differ slightly in length or thickness. As these are natural items, their beauty lies in their unique irregularities. 
---