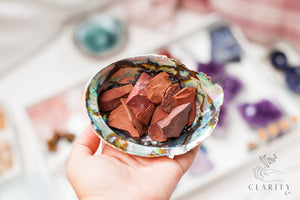 Clarity Co.
Red Jasper Rough
Regular price
$3.00
$0.00
Unit price
per
For stability + security.
Associated with protection, courage and self confidence, Red Jasper is a great choice for those who want to activate + balance their root chakra.  It's said to help with energy balance, stability and endurance, and can remind us that we are capable of hanging in there for the long haul.  Red Jasper is believed to help draw attention to issues and problems as they arise, so that they may be dealt with before they get too big.  This grounding, supportive crystal is said to help remedy and resolve unfair situations, strengthening your boundaries where needed and supporting you to resist being dominated by others.  
Red Jasper can also be used for dream recall by placing it under your pillow at night.
Rough pieces are selected intuitively for you. 
Photo is a representation only and may not show the exact pieces you receive. As these are natural items, their beauty lies in their unique irregularities. 
---