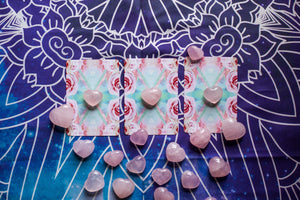 Clarity Co.
Rose Quartz Hearts
Regular price
$12.00
$0.00
Unit price
per
Rose Quartz | Crystals For Unconditional Self Love
A great "all-rounder" crystal, Rose Quartz is always a good choice to reach for. Its gentle, yet powerful vibration is most commonly known for helping and nurturing self love, one of the most important aspects of life; all things start from a foundation of first loving yourself. Rose Quartz is believed to help attract loving energy across the different areas of life, and can serve as a reminder to open yourself up to new relationships and friendships. It's also said to help increase compassion; both for yourself and those around you.
This beautiful crystal is a good choice for meditation when working to release grudges and bring forgiveness. It's believed to help restore faith and trust, helping to heal emotional wounds and instead encouraging unconditional love.
Crystal Hearts
Crystal hearts represent unconditional, universal love, and can be used to emit and inspire this pure, loving energy. They're associated with love and relationships, and can be used to connect with the energy of our heart chakra, which governs unconditional love, empathy, romance, and compassion. Use your hearts for meditation, to create a crystal grid, or simply place around your home and let them sit pretty with their loving vibrations.
Price is for one small rose quartz heart, selected intuitively for you. Hearts are approximately 3x3.5cm. As these are natural items, their beauty lies in their unique irregularities. 

---