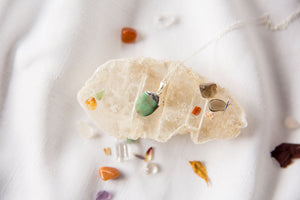 Clarity Co.
Silver Capped Chrysoprase Tumble Necklace
Regular price
$36.00
$0.00
Unit price
per
Beautiful metal capped chrysoprase tumble pendants. Each one is completely unique!
For abundance in love + life.
Associated with happiness, love + healing, Chrysoprase is a good choice when healing from a hurt heart or when wanting to bring back a sense of optimism in love.  It's said to support you to become courageous in vulnerability - but from a space of healing, rather than continuing to close yourself off to others as a defence mechanism after past trauma. Chrysoprase is also believed to be useful in reminding you to be compassionate and forgiving towards yourself and others, making it a wonderful support when attracting and building healthy relationships.
Chrysoprase is also considered to be useful in attracting luck, abundance and prosperity.  It's said to help with following your heart and brings a sense of hope and exciting possibility.
Please choose your chain length using the drop down menu below. 18" chains also have a ring at 16", and 16" chains also have a ring at 14".  Chains are 925 sterling silver. Pendants are intuitively selected from available stock - each piece is as unique as we are! Please feel free to get in touch before ordering to select your own. As these are natural items, their beauty lies in their unique irregularities. 
---