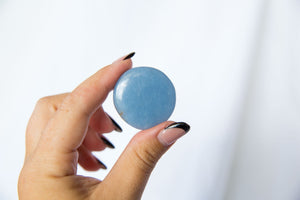 Clarity Co.
Angelite Flatstones
Regular price
$10.00
$0.00
Unit price
per
Angelite | Crystals For Spiritual Awakening
Often referred to as the "Stone of Awareness", Angelite is a helpful crystal to work with when on your spiritual journey. It's believed to help with communication to the angelic realm (angels, guides, ancestors, higher self) and is said to support a deeper sense of awareness and understanding.
A protective crystal, Angelite can also be used to help alleviate stress and anxiety, instead bringing peace, calm and tranquillity.  A helpful choice to support the release or removal of negativity that has attached itself, Angelite is said to help bring a sense of divine support. Wear or meditate with this crystal, and visualise the energetic weight lifting off your shoulders.  
Crystal Flatstones
Flatstones are wonderfully versatile, and are often favoured by crystal healers. Being larger than a tumblestone, they're much less easily lost or misplaced, and are less likely to roll off when placed on the body.  Flatstones can also be used as worry stones, and held to bring steadiness and calm.  Place your flatstone in an area where you'll see and reach for it often, and reaffirm your intentions each time you hold it.
Price is for one angelite flatstone only, selected intuitively for you from available stock. Please note, photos are examples only and may differ from the piece you receive. If you would like to pick your own, please get in touch before ordering. As these are natural items, their beauty lies in their unique irregularities.
---