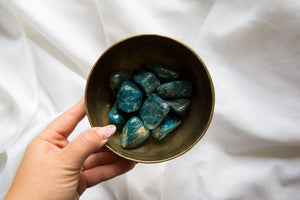 Clarity Co.
Apatite XL Tumbles
Regular price
$8.00
$0.00
Unit price
per
Apatite | Crystals For Creativity
A stone of growth, Apatite is said to invoke creativity, inspiration + motivation. It's a perfect choice for creatives and entrepreneurs, as it's believed to help facilitate the journey of an initial idea into reality, as well as aiding in communicating your ideas effectively and creatively. Meditating with this crystal is said to bring clarity and confidence around self-expression.
Apatite is also believed to be helpful in manifestation, intention setting, and achieving goals. It's said to balance the emotional and physical bodies, as well as connecting past lives and lessons with the present and future. This crystal can also be used to help with focus + learning, encouraging the pursuit of knowledge and truth to aid personal growth, or to serve the greater and collective good.
Price is for one blue apatite tumblestone, selected intuitively for you. Photo is an example only, the tumble you receive may differ slightly in colour or shape. As these are natural items, their beauty lies in their unique irregularities.
---