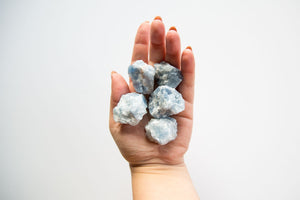 Clarity Co.
Blue Calcite Rough (small)
Regular price
$4.00
$0.00
Unit price
per
For inner peace.
Considered to be a stone of calm, peace + harmony, Blue Calcite is soothing and tranquil.  It can be helpful in lifting anxieties and filtering bad energy, and is said to protect and heal your chakras and auric/energetic field.  It's a great choice for sleep support, as it's believed to help with relaxation and recuperation.
This gentle, nurturing crystal can also be helpful for students and those wishing to expand and strengthen their studies, spiritual connection, intuition and/or metaphysical abilities.  It's said to help with retaining and understanding new information, supporting memory and learning.  Blue Calcite can also be a helpful ally during times of change or transition, as it can help you understand when to stop pushing to control a situation, and know when you've done enough.
Find medium pieces here.
Price is for one piece, selected intuitively for you.  As these are natural items, their beauty lies in their unique irregularities. 
---