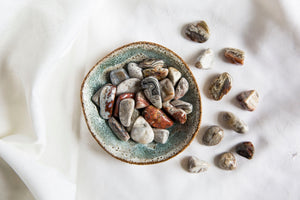 Clarity Co.
Crazy Lace Agate Tumblestone
Regular price
$3.00
$0.00
Unit price
per
For joy + optimism.
Known for its calming and soothing nature, Crazy Lace Agate has a joyful, youthful energy, and is known as the "Laughter Stone".  It's believed to help with self-confidence and focus, and is a good choice for those who want support to back themselves and stay motivated. This is a crystal to work with when you need to take things a little less seriously, but also remain present and in the moment.
It's said to help ward off negativity or ill intentions directed towards you by others, and is also considered helpful in avoiding trouble or accidents. It's said to absorb emotional pain, and therefore should be regularly cleansed.
Price is for one tumblestone, selected intuitively for you.  As these are natural items, their beauty lies in their unique irregularities.
---