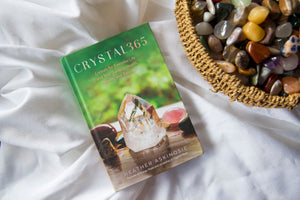 Clarity Co.
Crystal365
Regular price
$50.00
$0.00
Unit price
per
Transform and energize your everyday life with this essential guide for 52 crystals to be used 365 days of the year.
Co-author of Crystal Muse and co-founder of Energy Muse, Heather Askinosie, provides an abundance of key information, including each crystal's history and lore, origin, and intention, as well as a simple three- to six-step action plan for easy activation. Also included are crystal combinations for intentions such as love, wealth, creativity, happiness, and more.
Whether you are an avid crystal fan or just appreciate crystals' aesthetic beauty, Crystal365 will help you to incorporate crystals into your daily life in a more meaningful and conscious way with action plans that can be personalized to your own style and goals for transformation.
---