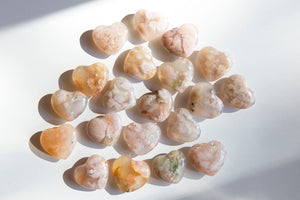 Clarity Co.
Flower Agate Mini Hearts
Regular price
$12.00
$0.00
Unit price
per
To help you reach your potential.
Flower Agate is associated with growth and reaching your full potential - much like the gorgeous, blooming inclusions, this is one to reach for to help you blossom!  It's said to help you relieve self-doubt and release your fears, thus helping unblock any emotional obstacles standing in the way of manifestation.
A comforting and grounding crystal, Flower Agate holds a feminine energy, reminding you to unapologetically embrace your feminine strength.  This is a good choice during times of change, transition, or new beginnings, and is said to help you move forward with the faith and understanding that not only are magic and opportunity coming your way, but also that you're worthy to take hold of your amazing future with both hands.
Price is for one heart, selected intuitively for you. Hearts are approximately 3-4cm. As these are natural items, their beauty lies in their irregularities; every piece is as unique as you!
---