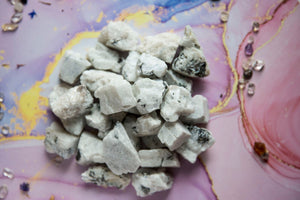 Clarity Co.
Moonstone Rough
Regular price
$3.00
$0.00
Unit price
per
For leaning into feminine energy.
Balancing emotions and aligning the feminine energies, Moonstone is a stone of inner growth and strength.  It's a wonderful choice for times of new beginnings or fresh starts, as it's supportive and said to attract good fortune, but also serves as a reminder to have a bit of faith in yourself and go with the flow - knowing that you are incredibly capable to tackle whatever comes your way.  This is a crystal said to bring about a healthy dose of optimism, and is believed to help you shine your inner light so that the illumination of your soul can light the way; both for yourself, and those you attract to you.
Moonstone is a very popular choice for expecting or new mothers (and those who are on the journey of intention to become mothers), as it's protective and supportive while travelling new paths.  This is also one to reach for during times of transition, such as moving home or occupation,
Price is for one piece, selected intuitively for you.  As these are natural items, their beauty lies in their unique irregularities.
---