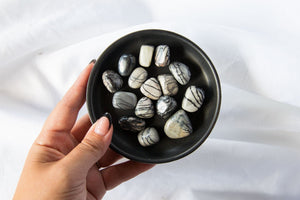 Clarity Co.
Net Jasper Tumblestones
Regular price
$3.00
$0.00
Unit price
per
Net Jasper | Crystals For Courage + Determination
A nurturing and calming crystal, Net Jasper is said to soothe frazzled nerves, allowing you to come back to a space of alignment and balance.  It's believed to protect against negativity, helping to keep you grounded and peaceful.  The interconnecting lines travelling through this crystal represent the relationships, connection and cohesion between different energies and processes - use this crystal to help build an understanding and awareness of how all these energies work together to create harmony in our Universe.
Net Jasper is also said to bring comfort, courage and determination, helping you to call upon your subconscious strengths in order to move through any challenges to come to your desired outcome. It's believed to help you to care for others, while maintaining and protecting your self care.  Use this crystal to promote healthy, balanced, calm, and mutually respectful relationships.
Also known/sold as: Spiderweb Jasper, Black Veined Jasper.
Price is for one tumblestone only, selected intuitively for you from available stock. Please note, photos are examples only and may differ from the piece you receive. As these are natural items, their beauty lies in their unique irregularities.
---