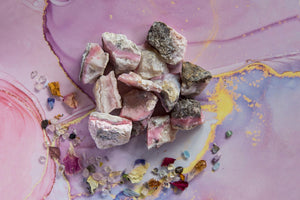 Clarity Co.
Pink Opal Rough
Regular price
$5.00
$0.00
Unit price
per
For Vibrancy
A bringer of hope, love and tenderness, Pink Opal is considered to be a supportive crystal for emotional healing.  Perfect for spiritual self-care, it can be used to release what doesn't serve you and allow your aura to hold only love.  It's believed to help with releasing emotional trauma, excessive worries, fear and stress, bringing you gentle hope and encouragement and you work through this part of personal growth.  
This crystal is said to be particularly good at resolving subconscious or unconscious pain; identifying and healing areas that weren't obviously or openly needing tending to.  Gentle and nurturing, Pink Opal can also be used to release any lingering memories that bring only pain after the lesson has long been learned.  If you find yourself battling with insomnia due to unwanted reminders of past trauma popping up, this could be a good choice to keep under your pillow at night for restful sleep and beautiful dreams.
Price is for one piece only, selected intuitively for you. Colour varies between pieces (and screens), the piece you receive may be lighter or darker pink than shown. As these are natural items, their beauty lies in their unique irregularities.
---