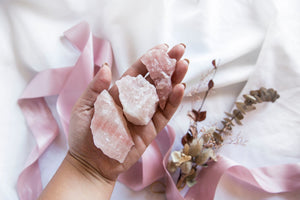 Clarity Co.
Rose Calcite Rough
Regular price
$7.00
$0.00
Unit price
per
For cleansing + clearing your heart.
Tender and nurturing, Rose Calcite is a stone of forgiveness and compassion, and is a good choice to help release anything holding you back from accepting and experiencing unconditional love.  Similar to its quartz counterpart, Rose Calcite can help tend to matters of the heart, encourage the healing of emotional wounds and trauma, and remind you to be loving and kind - including to yourself.  It's said to be a deep emotional cleanser, clearing out the "junk" that lurks within your heartspace and helping to remove stagnant energy and dissolve energetic blocks.  
Rose Calcite is also a good option for those struggling to find themselves, as it's believed to help draw out your true identity with grace and acceptance.  It's said to encourage you to open your heart up to new opportunities and possibilities, and gently support you through times of change or growth.
Please note our current stock is slightly smaller than pictured; price has been adjusted accordingly.
Price is for one piece, selected intuitively for you.  Photo is a representation only, and may not show the exact piece you receive. As these are natural items, their beauty lies in their unique irregularities.
---