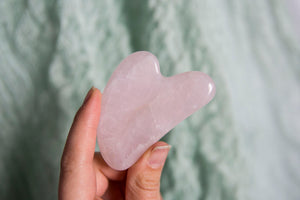 Clarity Co.
Rose Quartz Gua Sha
Regular price
$19.00
$0.00
Unit price
per
Beautiful rose quartz gua sha facial massage tools. 
For unconditional self love.
With delicate pink hues, Rose Quartz is a popular crystal - and for good reason! Its gentle, nurturing vibes are wonderful for helping improve self love, and serve as a great reminder to open yourself up to new relationships and friendships. Rose quartz is believed to help attract love, as well as increase compassion; both for yourself and those around you.
This beautiful crystal is a good choice for meditation when trying to release grudges and bring forgiveness. It's believed to help restore faith + trust, helping to heal emotional wounds and instead encouraging unconditional love.
Pair with a rose quartz facial roller here.
Price is for one gua sha only, selected intuitively for you.
---