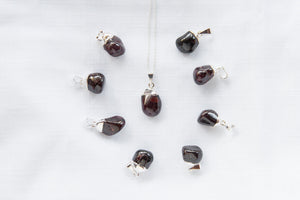 Clarity Co.
Silver Capped Garnet Mini Tumble Necklace
Regular price
$32.00
$0.00
Unit price
per
Beautiful metal capped garnet tumble pendants, a gorgeous way to carry crystals with you. Each pendant is completely unique!
For manifesting passionate success.
A stone of energy and passion, garnet is a beautifully dark red, resonating with the Root Chakra. It's believed to help promote a healthy, sincere + loyal relationship, and is also a popular choice for those wanting to increase fertility.  Garnet is considered helpful when creating the life you truly desire, providing support, motivation + vitality.  It's believed to bring success in business (and the bedroom...!!).

Find larger garnet pendants here.
Please note: While the chain provided with your necklace is sterling silver, the actual pendant is not.
Please choose your chain length using the drop down menu below. 18" chains also have a ring at 16", and 16" chains also have a ring at 14".  Chains are 925 sterling silver. Pendants are intuitively selected from available stock - each piece is as unique as we are! Please feel free to get in touch before ordering to select your own. As these are natural items, their beauty lies in their unique irregularities.
---