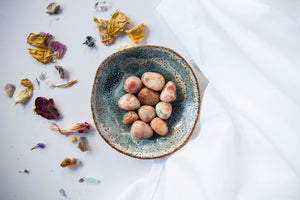 Clarity Co. Crystals
Sunstone Tumblestones
Regular price
$3.00
$0.00
Unit price
per
For noticing the beauty around you.
Sunstone is a beautiful, iridescent crystal, associated with leadership, creativity + positivity.  It's believed to help bring a willingness to provide service and kindness to others, as well as helping to highlight opportunities for joy that are presented to you.  This gorgeous crystal can be a wonderful reminder to slow down and enjoy the little things in life; happiness is found everywhere if you look for it.  Rather than waiting for something "good" to happen, Sunstone can help you see that good is already happening around you.
Sunstone is also great to work with if you want to ignite passion + motivation in your work or life.  It's a good choice for those who have been feeling a bit flat, as it can help you tap into your zest and thirst for life.  It's believed to help you link your intention and will with action, encouraging you to put the work in to get the results you want.
Price is for one tumble only, selected intuitively for you.  As these are natural items, their beauty lies in their unique irregularities.
---